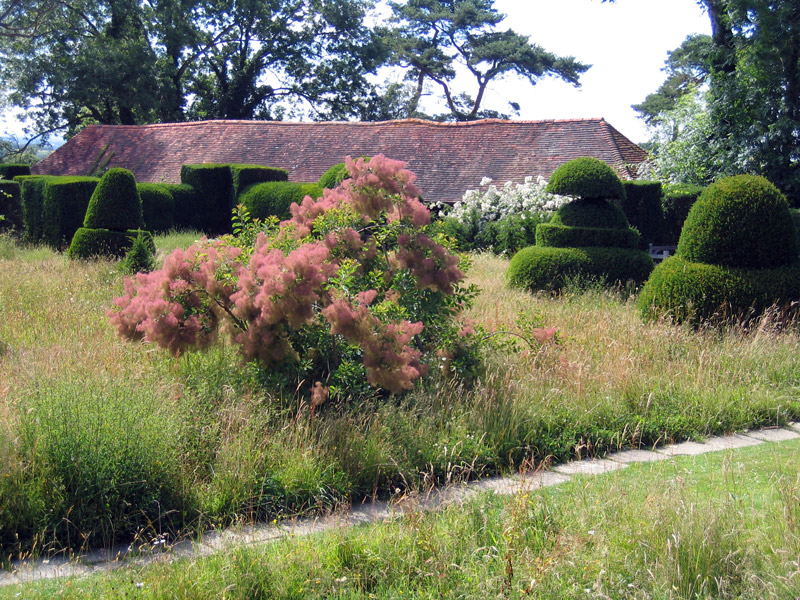 Gardening is more popular in England than anywhere else and this is reflected in the number of gardens open to visit in England. As an island surrounded by choppy seas and protected by a powerful navy, Britain's territory was physically secure from an earlier date than other European countries. English towns could spread beyond their medieval walls much earlier than in continental Europe. Instead of apartment blocks, the typical English dwelling was a small house with a small garden. The aristocracy always wanted 'a place in the country' for the summer and a town house for the winter. Also, the climate is never very cold and partly because it is never very hot. One usually has to be up and doing something.
A wide range of design styles are well represented in England, although the most famous period in English garden history is the eighteenth century, when the original English landscape gardens were made. England has some wonderful cloister gardens attached to the great cathedrals. The best are simple rectangles of grass. England also has many castles - but no ancient castle gardens. Nor are there many renaissance survivals. There are baroque gardens but not nearly so many as in France and Germany. But from the eighteenth century onwards Britain has excellent examples of most styles of garden design.



Escorted Garden Tours in England
The Gardens of Kent and Sussex,
departing 25th May, 26th June and 14th August 2014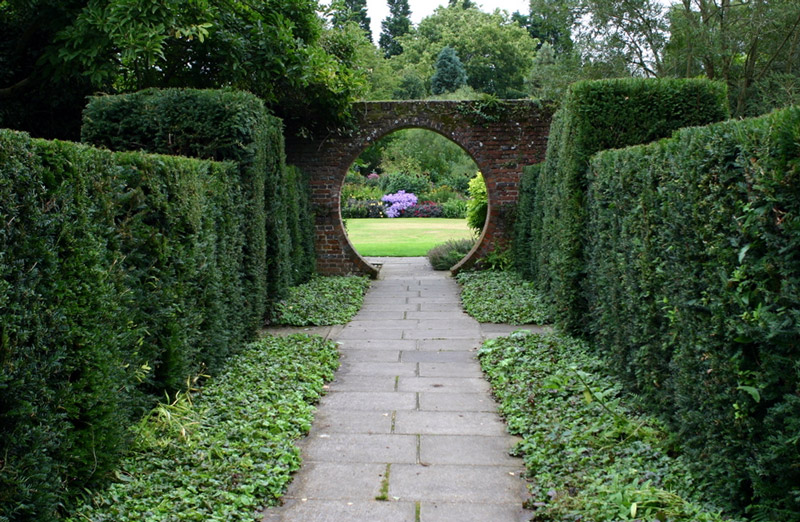 This is an excellent tour for visitors to London who would like to visit gardens in Kent and Sussex. The countryside is varied, well-wooded and very favoured from the points of view of garden makers and garden visitors. The tour includes visits to
Lullingstone Castle
,
Great Comp
,
Nymans
,
Leonardslee
,
Sissinghurst
,
Great Dixter
and
Hever Castle
.
Chelsea Flower Show,
22nd May 2014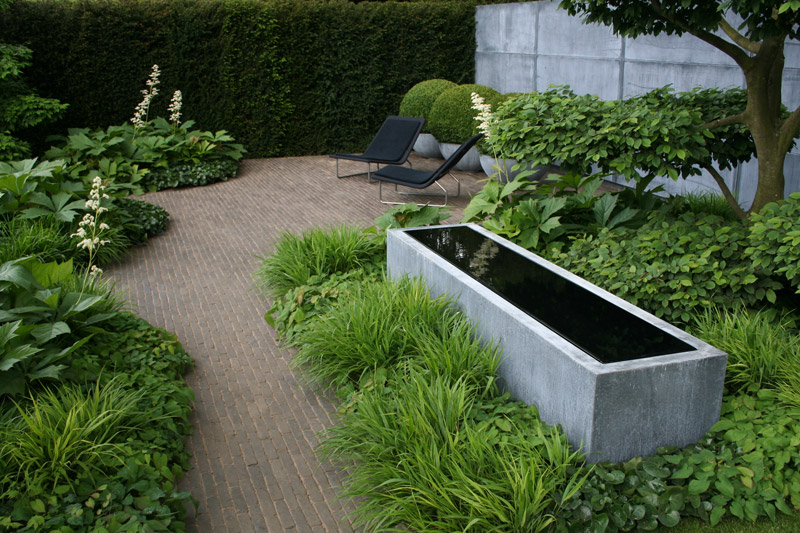 The tour includes a full day at the
Chelsea Flower Show
, which is the most famous horticultural event in the world, a visit to one of the best known Arts and Crafts gardens in England (
Sissinghurst
), a tour of the RHS's flagship garden (
Wisley
) with its new glasshouse, and a visit to one of most complete historic gardens and estates in England (
Tatton Park
).
Northumberland - Passionate Lady Gardeners,
May 16th, 6th June and 5th September 2014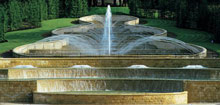 Four distinctively different gardens, four passionate lady gardeners – all this and the
Alnwick Garden
too.
ADDERLEY TRAVEL
+44 (0) 1953 606 706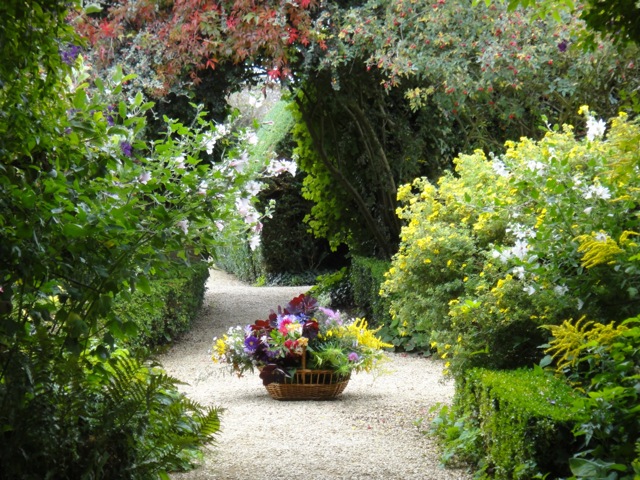 Small group garden tours
Adderley Travel Limited specialise in quality, small-group (max. 12 people) garden tours throughout Britain, especially for overseas visitors to the United Kingdom.
"...I would recommend this to anyone who didn't want a big travel tour experience, loves food, wants to see the English county through lanes and paddocks, doesn't mind a laugh, and wants to be looked after..." Rosemary, Gloucester NSW 2010
Email us at info@adderleytravel.com or visit www.adderleytravel.com to see our tours.
Sisley Garden Tours,
departing 17th May and 6th July 2014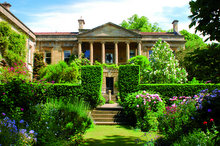 Delightful small group garden tours to the RHS Chelsea Flower Show and Hampton Court Palace Flower Show
Our popular tour of English Spring gardens including Sissinghurst, Great Comp, Great Dixter, Hever Castle and RHS Wisley, culminates at the fashionable Chelsea Flower Show. Or join our English Summer Gardens tour to experience the very best of the Cotswolds including Hidcote, Kiftsgate Court, David Austin Roses and Coughton Court before heading to Hampton Court Palace Flower Show, Sissinghurst, Hever Castle and RHS Wisley.
Photograph (left) © Kiftsgate Court Gardens, Gloucestershire courtesy of Ziggurat Design
'Gardens of the Summer Lands'; Somerset & the Wiltshire Borders,
departing 15th May to 19th June 2014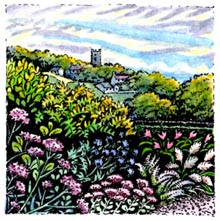 Somerset, 'land of the summer people', where softly rounded hills, wooded coombes and lush meadows give good grazing throughout the year; also the land of fine ciders, famous cheeses, and 'withy' plantations as well as gorgeous summer gardens and specialist nurseries. We stay at Ston Easton Park, a superb Palladian mansion nestled in a romantic West Country estate in the Mendip Hills, blending a rich heritage with the exacting standards of a four-star country house hotel. The hotel also features an authentic Victorian kitchen garden providing much of the produce used in the award-winning restaurant.
'Summer Gardens of Suffolk', A quiet corner of old England,
departing 6th to 10th July 2014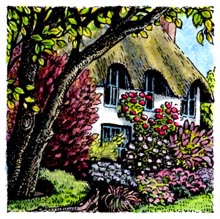 Enjoy a hand-picked selection of fine private gardens in a quintessentially 'English' region of rural Britain. At each we are met for special guided tours to learn the essentials of creating wonderful gardens in this quiet corner of old England, with a particular emphasis on summer borders. We are also shown the Beth Chatto Nursery, Woottens, and The Place for Plants. We are accommodated at the iconic Swan Inn, a half-timbered, fifteenth-century building set in the heart of Lavenham, the country's most beautiful medieval village: a stylish, comfortable hotel with fine food and peaceful ambience.
Arts and Crafts – houses and gardens of the Cotswolds,
departing 11th May and 24th August 2014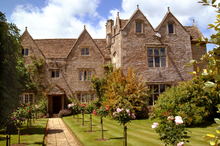 The Cotswolds has been synonymous with the Arts and Crafts since the late 19th Century. Discover what inspired William Morris, C R Ashbee and the Barnsley brothers to relocate here to champion traditional crafts and how their influence continues to this day. We will visit some of the best examples of houses and gardens with our expert guides. We will visit the houses of
Kelmscott
and Buscot Park as well as wonderful collections of Arts and Crafts design. The gardens include
Hidcote
,
Kiftsgate
and
Buscot Park
. All walks are optional.
Cotswold Gardens and their 20th Century designers,
departing 22nd June 2014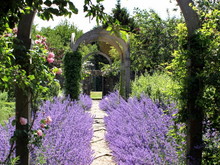 The Cotswolds is blessed with an abundance of celebrated gardens and we invite you join us to discover some of the best examples of 20th-century design from
Hidcote
to Highgrove and Armscote to Asthall Manor. Our expert guide and garden designer Amanda Patton will give a unique insight into the history and inspiration into each our carefully selected gardens.
Flora Garden Tours,
+44 (0) 1366 328 946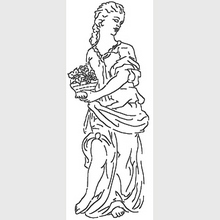 Flora Garden Tours take small groups of up to 12 people to the best English gardens - large and small. The tours last 3-6 days but special interest tours can be run to suit your group. This is a photo of the Green Giant at The Lost Gardens of Heligan in Cornwall. FLORA will tour Cotswold gardens from 23rd to 27th May 2014 based at Stow-on-the-Wold. Chelsea is on then too. We shall visit Hampton Court Flower Show and gardens in Kent and Sussex from 8th to 13th July 2014.
The tour director, Dr. Barbara Sommerville, guides all tours
and gives an entertaining slide talk each evening illustrating a range of garden topics.
www.flora-garden-tours.co.uk
or
enquiries@flora-garden-tours.co.uk