Beach Houses and Gardens
Return to property home
The universal appeal of beachfront real estate means that a sea view, or even proximity to a beach, will automatically increase the value of the property. The extent of this increase varies considerably from location to location.
Many beach houses are secondary or holiday homes rather than a primary residences. Escaping to the seaside is a popular way of recharging and relaxing away from the pressures of modern life.
A beach house could be anything from a luxury mansion to a humble beach hut (though be warned - the price may not be correspondingly humble), situated anywhere from the harbour of a busseling metropolis to some remote corner of the planet where you are likely to have the beach to yourself.
Beach huts have a achieved something of a cult status. In 2004, beach huts peaked at £160,000 in Mudeford, Dorset (England) with no electricity, no water, in fact no mod cons at all. Away from Mudeford, it is possible to buy a beach hut for a fraction of this price.
The most famous beach house and garden of the late twentieth century was made by the filmmaker, Derek Jarman. It was a real celebration of the local scenery with beachcombed materials and plants used for all the construction work.
See also: Beach houses in Denmark, Sweden, Norway and Finland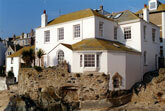 Beach house, St Ives, Cornwall, England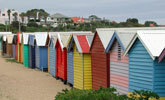 Beach huts, Nubris, Australia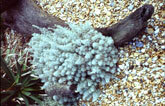 Jarman's beach garden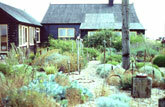 Jarman's beach house