Wimbledon garden property
Return to property home
Wimbledon has been settled since the Iron Age, with its centre near today's Wimbledon Village, on the edge of the hill top known as Wimbledon Common. The Manor of Wimbledon was crown property until given to the Cecils in 1588. They built a famous renaissaisance manor house and garden - replaced with Wimbledon Park House in 1801. Other grand properties (eg Cannizaro House) were built and Wimbledon developed into a graceful residential suburb. Growth accelerated when the London and South Western Railway opened in 1838. By 1894 it was a small residential town, famous for the All England Lawn Tennis and Croquet Club.
Wimbledon Common has an acid soil (indicated by sheep's sorrel and tormentil) and the surrounding gardens are notable for their collections of rhododendrons and azaleas. There are many large Arts and Crafts style properties reminiscent of the Jekyll and Lutyens 'Surrey style'.
For historical information on Wimbledon, see Muirhead's 1927 London Walks: Hampton Court (and Wimbledon) by Rail.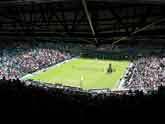 Wimbledon's most famous property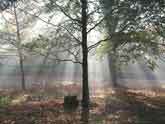 The Parkside area of Wimbledon has many properties with large Arts and Crafts gardens