Garden property in London
Return to property home
Wimbledon, Richmond, Kingston, Hampstead, Harrow, Greenwich/Blackheath, Belgravia, Chelsea
London can well claim to be the world's Garden Capital, with many 'country' houses within its boundary. Once the largest city, it is now the world's twentieth largest, with a great range of property types. London remains:
A rich city with a great many large properties
The capital city of a garden-mad nation
Host city to the Chelsea Flower Show
A 'scattered' city with a centuries old tradition of building luxurious garden property.
In his book London - the unique city, Steen Eiler Rasmussen identified a low housing density a high garden density as the key factors in London's uniqueness. He wrote, in 1934, that ' London is an open city, which enabled it to spread freely in all directions'. The old tradition, again popular, was to build terrace property with secluded back gardens. In 1934 Rasmussen wrote 'Now people do not want to live in street houses any longer, they want a Cottage which must be situated in a small garden of its own'. Doubtless, he would have regretted the twenty-first century popularity of apartment blocks. But London has a vastlegacy of fine houses with fine gardens. It is the world's gardening capital. The prime areas for garden property are South West London (Wimbledon, Richmond, Kingston etc) and North West London (Hampstead and Harrow). Greenwich/Blackheath is the nearest equivalent in East London. For those who want to live near Central London, Belgravia and Chelsea have the best gardens. Other districts have garden squares and elegant parks. Luxurious dwellings have gardens the size of private parks.
See also: Muirhead's guide to London Walks in 1927.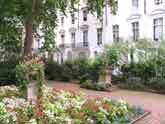 Property overlooking a garden square
Museum of garden history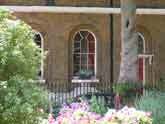 Garden terrace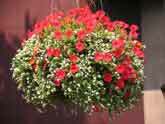 Suspended garden property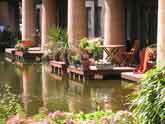 Luxurious appartments overlooking a communal landscape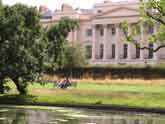 Nash's palatial terrace, by Regent's Park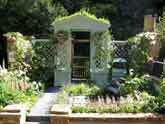 Show garden at Chelsea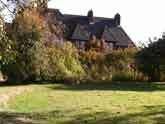 William Morris's suburban house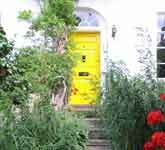 Front door to London house