Portuguese holiday property
Return to property home
The Atlantic coast of Portugal is windier, and fresher, than the climate of the Mediterranean. In the north (eg around Oporto), it is wet and in the south (eg the Algarve) it is dry. Around Lisbon, it is in between.
Lisbon area
Lisbon is small but great city. It has the cultural vigour of a Latin city and an openness to the world consequent on its Atlantic position. The central area is dense but an extensive suburban area, now engulfing some historic gardens, has developed.
Algarve
This dry coast with cliffs and sandy beaches has become Portugal's most popular tourist area. The government has imposed restrictions on sprawl but has allowed purpose-built estates of holiday villas.
North coast
Compared to most of Portugal, Oporto and the Douro valley are lush and green.
Madeira
Madeira is a moutainous, green, subtropical island in the Atlantic 1000 km south west of Lisbon. Of interest to gardeners, the soil on the island is extremely rich and fertile. Madeira itself has no real beaches but offers superb walking. Beach lovers can make a day trip to neighbouring Porto Santo and its beautiful 9km sandy beach.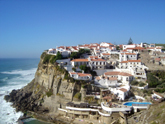 Azenhas do Mar (near Lisbon)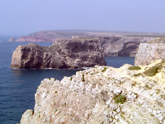 Algarve coast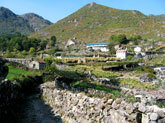 Rural Portugal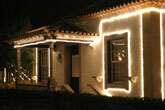 Villa in Cascais, Portugal