Malta holiday property
Return to property home
Malta became independent from the UK in 1964 and joined the European Union in 2004 as the smallest member state. Malta is an archipelago located in the central Mediterranean between Sicily and Africa. This location made it an important stopping point for ships passing through the Mediterranean and as a result Malta is home to a plethora of archaelogical sites. Only Malta Island, Gozo and Comino are inhabited. Gozo is quieter and more rural than Malta Island itself. There are no direct flights to Gozo.
The Maltese climate is Mediterranean with dry summers and mild rainy winters. Soil-cover over parts of Malta Island is limited. Fresh water is scarce and increasingly the island is relying on desalination. Maltese flora is characteristically Mediterranean. There are a suprising number of pleasant public gardens on Malta. Gozo is greener and more fertile than Malta island itself.
The official language of Malta is Maltese (a language of Semitic origin) but the vast majority of the population can speak English. The Maltese are very friendly people and foriegners buying holiday homes in Malta are often suprised by the sense of community and the number of friends they have made. The cost of living is low on Malta and the way of life is very peaceful.
Most holiday homes are located in the north of Malta. Traditional farmhouses are scattered throughout the quaint inland villages. Over the last few years, property prices on Malta have increased by 12-15% per annum but are still good value. The buying process is straightforward. If you buy a property for holiday use rather than permanent residency, it is necessary to apply to the Ministry of Finance for a permit, which usually takes 1-2 months. Foreigners are only allowd to own one residential property on Malta although there are some developments that are exempt from this restricition.
Valletta
Situated on the north-east coast, Valleta is the capital of Malta and a designated UNESCO World Heritage site. The city was founded by Jean de la Vallete, the Grand Master of the Order of the Knights of St John of Jerusalem, in the 16th century. Valletta is a fortress city built of honey-coloured stone.
Luxury hotel with garden 7 kms from Valletta - Corinthia Palace Hotel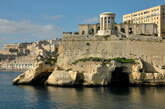 Malta property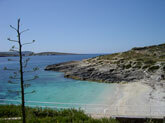 Gozo, Malta's sister island