French holiday homes
Return to property home
France is known as the country of good living - and it has the largest tourist trade of any European country. Yet 'sleepy' is a common adjective for French Towns: there seem to far fewer people busying about than in other countries. This is a pleasure for vacationers, be they visitors or owners of second homes. Paris is part of the explanation for the quietness of French towns - everyone wants to live in the capital and many regions have a declining population. This a great advantage for tourists: fine property is available; many semi-derelict properties are awaiting restoration.
France has also has a great tradition in the design of outdoor space. The seventeenth century is the most famous period but France also had a strong tradition in the Middle Ages and in the nineteenth century. France's horticultural industry remains highly skilled and enthusiasm for a wider range of plant material is growing rapidly. Holiday-home owners from Holland and England have accelerated the trend.
Paris
Since Paris is a hub of the TGV high-speed rail system, it is possible for people from a large area to own second homes in Paris. Finding a property with a garden is more difficult, except in the suburbs. Paris is a high-density city of apartment-dwellers, but with fine parks to enjoy.
Brittany
Brittany's climate is similar to that of South West England. Strong winds affect plant growth but the availability of stone allows rugged buildings with strong garden walls.
Normandy
The Normans conquered England in 1066 and it is the French region with most similarity to Southern England, though it is , warmer, less developed and less busy.
Languedoc
Close to the Spanish region of Catalonia, Languedoc has a Mediterranean coast and a separate culture. Culturally, it is, more North European than other parts of the Mediterranean, but horticulturally it is a classic South European landscape.
Provence/Cote d'Azur
East of Languedoc and stretching to the Italian border, this area takes its name from having once been a 'Province' of the Roman Empire. It has high mountains, sandy beaches and some of the most famous Mediterranean resorts, like St Tropez and Nice. The famous inland towns include Avignon, Arles and Aix-en-Provence. The Cote d'Azur, often referred to as the French Riviera has long attracted garden lovers, such as the Vicomte Charles de Noailles and Lawerence Johnston. There are a number of excellent personal gardens open to the public (most of which are best viewed in February to April).
Dordogne/Lot/Perigord
Between the Mediterranean and Atlantic coasts, this area is dominated by famous river valleys set amongst rolling hills and sleepy towns. The French and English fought for the area during the Middle Ages and English second-home buyers have been very active in recent years.
Alps
France has an extensive Alpine region with famous ski resorts, including Chamonix and Val d'Isere. Garden-lovers can buy a mountain chalet, enjoy the summer weather and let the property to skiers during the winter.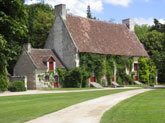 French cottage, Chenonceaux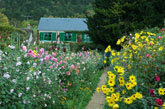 Monet's house and garden at Giverny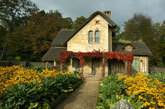 Village house, Versailles, France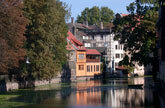 Real estate in Strasbourg, France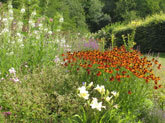 Chaumont Garden Festival, France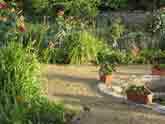 French garden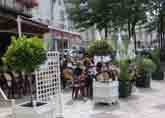 French cafe