Slovenian holiday homes
Return to property home
The Slovenian real estate market was fairly closed to foreigners until 2004, the year Slovenia joined the European Union. Both these factors mean property prices in Slovenia are expected to rise significantly.
Slovenia has a short Adriatic coast (only about 50 kms) with a Mediterranean climate but most of Slovenia has a continental climate with warm summers and cold winters. Despite being a small country, Slovenia has 26,000 kms of permanent and torrential water ways, which mean that it is a very green country that is home to about 3000 higher plants, about 70 of which are endemic.
Slovenia is a small country that borders Austria to the north, Croatia to the south, Hungary to the east and Italy to the west. The countryside in Slovenia is characterised by mountains (Eastern Alps) and lakes. This makes it popular with active holiday makers - choices range from skiing, to hiking, cycling, boating, paragliding, climbing and horse riding.
The Karst region of Slovenia is the most famous cave region in the world. Slovenia has more that 7,000 registered caves (mainly limestone).
As part of the Austro-Hungarian empire, Slovenia had a number of Baroque gardens. One of the best examples is at Dornava (near Ptuj) built on the site of a medieval manor for the Lords of Ptuj and aquired by Count Dizma Attems in 1730.
Tourist farms are becoming increasingly common in Slovenia. They offer a good way to enjoy Slovenia's countryside and natural beauty.
Bled
Beautiful Lake Bled is surrounded by pine forests and the Julian Alps. Bled is often likened to the scene in a fairy tale with a medieval cliff-top castle looking down on to the lake and Maria Island. Bled has a very good golf course and thermal springs.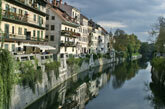 Real estate in Slovenia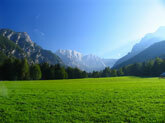 Alpine valley, Slovenia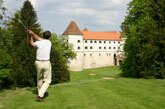 Mokrice Castle and Golf Course, Slovenia