Slovakian holiday homes
Return to property home
Slovakia joined the European Union in May 2004. The country is landlocked so if a beach is on your "must have" list then Slovakia is not for you. The northern and central regions of Slovakia are mountinous and there are some fine ski slopes. The Slovakian climate is temperate and continental in nature. The soil in the south is fertile and there are some very good vineyards. The offical language is Slovak.
Foreign buyers can purchase both real estate and land in Slovakia. The only restricitons apply to forest and agricultural land. If you have owned your property in Slovakia for 5 years or more (2 years if it is an apartment), you will be exempt from Capital Gains Tax (usually 19%).
Bratislava
Slovakia's vibrant capital, Bratislava, lies at the foot of the Carpathian Mountains. The river Danube flows through Bratislava. Vienna and Budapest are within easy distance for a day trip. Both cities can be reached via regular boat services along the Danube. Property prices in Bratislava are still very undervalued in relation to other European capitals.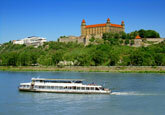 Bratislava, Slovakia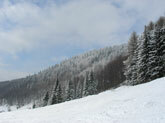 Winter in Slovakia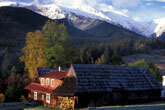 Wooden house in Zdiar, Slovakia