Romanian holiday homes
Return to property home
The Romanian property market has grown rapidly over recent years. Romania is on track to join the European Union in 2007. The weather is hot in the summer and cold in the winter.
Romania has 245 kms of attractive Black Sea coast, sometimes referred to as the Romanian "Riviera". The Danube Delta is where the River Danube meets the Black Sea. The river splits 80 kms from the coast and the Delta consists of a network of lakes, swamps and sand dunes. The flora and bird life of the Danube Delta is fascinating and the area is protected by UNESCO for its biodiversity.
Foreigners can buy property but not land in Romania so it may be necessary to set up a Romanian company.
Bucharest
Once known as the 'Paris of the East', the Romanian capital Bucharest bears scars from its past. Many of the old buildings were torn down and replaced with communist architecture. Bucharest has the lowest cost of living of any European city. Public parks, lakes and gardens are plentiful in this "garden city" and include Botancial Gardens, Gradina Cismigiu and Herastrau Park.
Brasov
Surrounded by the Carpathian mountains, Brasov is a pictoresque medieval town in central Romania.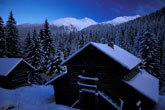 Chalet in the Carpathian Mountains, Romania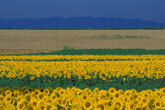 Sunflower field, Romania