Croatian holiday homes
Return to property home
The future looks very promising for the Croatian property market and it is a beautiful country in which to enjoy a holiday home. The war following the break-up of Yugoslavia is now firmly in the past and Croatia is on track for EU accession in 2008. Property prices in new EU member states tend to rise steeply just before accession so probably the sooner the better for property investment in Croatia. The rental market for holiday villas, particularly in Istria, is extremely healthy between April and October but the demand is predominantly for short rather than long term rentals.
The Croatian coastline is the one of the sunniest in Europe - and there are over 5,000 kilometres of it if you include its 1,000 islands - and the water is the cleanest in the Mediterranean. With warm dry summers and mild winters, it is a tempting prospect for garden lovers.
The chief cities of Croatia are Zagreb and Dubrovnik. Dubrovnik was an independent Slav town, protected by strong walls. Ruled by nobles, it had strong links with Italy and a tradition of making villa gardens on the hills outside the fortifications. Villas survive at Trsteno, Lapad and Rijeka. Dubrovnik also has a cloister gardens belonging to the Dominican Monastery.
Non-Croatian citizens of countries in which Croatian citizens can purchase property are allowed to purchase property in Croatia subject to the approval of the Ministry of Foreign Affairs. This reciprocal agreement exists between Croatia and the US and EU countries except Italy.
Istria
High demand has pushed up prices but property in this area is still very good value. Historic coastal towns such as Rovinj and Porec are extremely picturesque. Inland are magnificant limestone hills and forests however English is less widely spoken. Istria is the most accessible part of Croatia from Western Europe.
Dalmatia
This region of Croatia gives its name to the spotty Dalmatian dog. The Dalmatian island Hvar is the sunniest place in Croatia. In the south of Dalmatia lies Dubrovnik, a world heritage city of outstanding beauty. Almost unchanged since the 13th century, the old walled city captivates all who visit it.
Croatia's Islands
Of Croatia's 1000 islands in the Adriatic, only about 50 are inhabited. The island of Rab is particularly worthy of investigation. With more than 300 freshwater springs, it is one of the greenest of the Adriatic islands and offers a very sheltered environment to cultivate a garden as it is protected from cold north-eastern winds by the Kamenjak range. Rab Town has a wealth of mediaeval architecture to be enjoyed.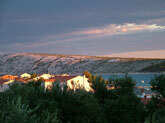 Island of Rab, Croatia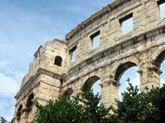 Roman Amphitheatre, Pula, Croatia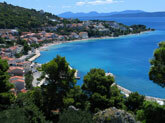 Holiday Homes in Podgora, Croatia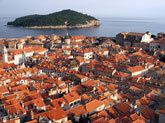 Property in Dubrovnik, Croatia