Bulgarian holiday homes
Bulgaria is a relatively new country for buyers of holiday property and its popularity grew rapidly. Then, the Bulgarian economy was hit badly by the recession and so too were property prices. The housing market in Bulgaria was one of the worst hit by the international downturn but in 2010 foreign interest seems to be on the rise again.
The scenery is extremely varied, with high mountains, dramatic gorges, pine forests and a sea coast on the Black Sea. The hot summer is ideal for beach and watersports enthusiasts and in the winter Bulgaria becomes an attractive ski destination with lift passes half the price of France, Austria and Switzerland.
As a recently-communist country (until 1989), Bulgaria has not been wealthy and the exchange rates still make it an extremely affordable country in which to buy a holiday home. Its wide range of landscape types and strong tradition of small farmers provides a good context for garden makers. Bulgarian tourism has so far been orientated around package tourism and careful investors should take this into consideration if they are hoping to receive a reliable rental income from Bulgarian property.
Bulgaria has a tradition of courtyard houses which flourished in Roman times and the Middle Ages. During the period of Ottoman rule (1391-1878) many Bulgarians fled to the hills and founded new Christian towns (eg Koprivshtista, Panagyurishte, Karlovo, Kotel and Travna) with courtyard houses, with orchards and cobbled streets. Monastic courtyards were also built. After the Ottoman period a number of European garden designers worked in Bulgaria. They worked in the Mixed Style and introduced greater botanical variety.
Please note that Bulgarian law stipulates than only Bulgarian people or companies can purchase land within Bulgaria. This has no implications for foreign investors purchasing apartments because you are buying part of a building rather than land. However, foreign investors keen to purchase a holiday home with a garden will currently have to create a Bulgarian company through which to make the purchase. This may cost up to £500.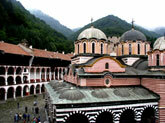 Monastry in Rila, Bulgaria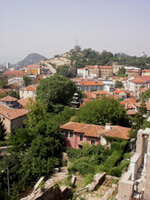 Houses in Plodiv, Bulgaria