Indian holiday homes
Return to property home
India is an amazing country from ever-so-many points of view: the variety, the scenery, the architecture, the wild life, the immense luxury, the ancient poverty, the culture, the religions and, above all, the people. For real estate buyers, the transaction costs, capital costs and ownership costs are low by international standards. English is more widely spoken, and better spoken, than in continental Europe. The weather is another great attraction for Indian property buyers: except for the Himalayan region, the best months to visit India are the coldest months for Europe and North America. The beaches of Goa, for example, are wonderful in winter and almost without visitors in summer. India also has an ancient tradition of garden design. See notes on Indian gardens, Hindu sacred gardens and Buddhist sacred gardens.
The climate in the south of India is tropical monsoon, in the north it is temperate. Hindi is the official and most widely spoken language in India.
The drawback to Indian property investment has been government policy. Real estate is one of the categories of Foreign Direct Investment (FDI) to which India is opening its doors. But it remains much easier for Non Resident Indians (NRIs) to buy property in India than for persons not of Indian descent - no western country has such racially discrimatory laws. Legal advice is essential and there must be prior approval from the Reserve Bank of India (RBI). Approval is normally available for: substantial investments (over $10m USD), purchases in Special Economic Zones (SEZ), purchases on serviced plots and houses held on leases of 5 years or less. Our crystal ball reveals that these constraints will be lifted - gradually - and India will become a prime location for garden real estate investment.
Transaction costs associated with purchasing property are low - only about 2% of the purchase price. With respect to buying a new property, developers will often sell the property prior to completion to allow the buyer to avoid stamp duty.
A note in the interests of planning ahead - Indian law prevents foreign investors from taking out more money from India than they brought in. This clearly has implications for if you decide to sell your Indian property.
Goa
Famous for its endless sun-soaked beaches, diverse music and laid back lifestyle, Goa is becoming increasingly popular for buying overseas homes. From November until April, the days are long and sunny (30°C) and the evenings are pleasant (25°C).
Further resources on Indian Real Estate:
India Properties An ultimate place for investment in contemporary retail, residential or commercial space in India.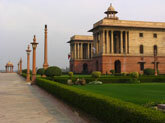 New Delhi, India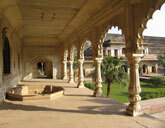 Deeg Palace Garden, India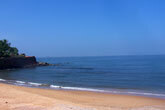 Candolim Beach, Goa, India