Brazilian holiday homes
Return to property home
Brazil is the fifth biggest country in the world. The climate is mostly tropical, but temperate in the south. The flora of Brazil is a big attraction for garden lovers, with over 50,000 plant species, including 100s of beautiful orchids.
In comparison the Europe and the USA, property prices are extremely low. The process of buying property is straightforward as Brazilian law allows foreigners to own freehold to land and property in their own names. Flights to Brazil are not particularly cheap so factor in the cost of getting to your holiday home when doing your sums. A fazenda is a country estate or farm, historically associated with the coffee plantations of the colonial period. It is now possible to buy or rent a fazenda, many of which have lovely gardens.
The official language is Portuguese, not Spanish like the rest of South America. Brazilian Portuguese is slightly different from the Portuguese spoken in Portugal - in terms of pronunciation, grammar and some vocabulary.
Rio de Janeiro
Rio is Brazil's second largest city and was the capital of Brazil from 1763 until 1960. Rio de Janeiro is situated in a magnificent bay, surrounded by mountains and beautiful beaches (some of which are unfortunately rather polluted now). Rio has some fabulous public and private gardens by the landscape architect Roberto Burle Marx. Home of Carnaval, it is a truly vibrant city with world famous nightlife. However, property prices in many parts of the city are already quite high and some areas of Rio are not very safe. If you are looking for a peaceful retreat, it is worth exploring the surrounding area rather than the city itself.
Bahia
Bahia has long been popular with Brazilan tourists but is only now being discovered by foreign tourists. This means property prices are still relatively cheap, for now.
Natal
Natal is in the north east of Brazil. With sun all year round, beautiful beaches and its famous sand dunes, Natal is attracting interest from foreign tourists and investors alike.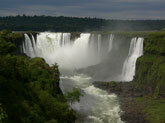 Iguassu Waterfall, Brazil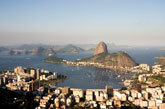 Rio de Janeiro, Brazil