Mexican holiday property
Return to property home
Mexico is located in North America, bordering the USA to the north and Belize and Guatemala to the south. After 300 years as a Spanish colony, Mexico gained its independence in 1810 and is still Spanish speaking. Mexico is divided into 32 states. The country has mountain ranges and deserts in the north and tropical rainforest in the south. Mexico has a warm climate year round. It tends to be cooler and drier inland. Property prices and general cost of living are quite low in Mexico.
Foreigners may own property directly in Mexico except in areas restricted under the Mexican Constitution. The "restricted zone" is a band that covers land within 50 kms of Mexican coastline and 100 kms of a Mexican border. Within the restricted zone, foreigners can only purchase property by setting up a Mexican company or through a real estate trust know as a "fideicomiso". A Mexican bank must be the trustee of the trust. As the beneficiary of the trust, the foreign buyer enjoys the same rights as if they were the direct owner. It costs US$1,000-3,000 to set up a fideicomiso and the maintenance of the trust will cost a further $500 per year. It may be cheaper to go down the Mexican company route to avoid high fees. Provided there are 2 or more parties to the company, a Mexican corporation can be owned solely by foreigners.
Cancun
In the 1970s, the area now occupied by Cancun was uninhabited. It was identified as having great potential for development as a tourist destination. Cancun has beautiful white powder sand beaches fringing the crystal clear waters of the Carribean Sea. Many Mayan ruins are easily accessible from Cancun (including Tulum and Chichen Itza). There are two parts to Cancun - Cancun City where the locals live and the Hotel Zone where all the tourists are.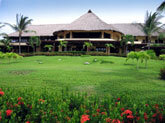 Real estate, Mexico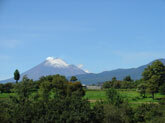 Volcano, Puebla, Mexico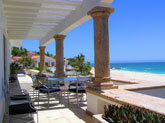 View over Sea of Cortez of villa, Mexico