Canadian holiday homes
Return to property home
Canada is an enormous country (2nd largest in the world after Russia) and as such the land and climate vary hugely. The Pacific Coast on the west of Canada has the most moderate climate with warm, dry summers and mild, wet winters. Central Canada is prairie land with hot summers and cold winters. The climate is arctic in the north.
The Canadian Rockies are a vast rugged wilderness. The mighty Niagara Falls straddle the border between Canada and the United States.
The later part of the 20th century saw dramatic increase in the number of gardeners in Canada. Eighty percent of adult Canadians engage in gardening to some extent. Gardening on an agricultural level began in Canada before the Europeans arrived. The indigenous peoples, in particular the Hurons, tended and harvested crops of maize, beans, squash through companion planting techniques as well as other fruits, nuts and herbs for both nutritional and medicinal purposes.
The south-eastern provence of Nova Scotia is popular at the moment with foreign buyers and properties are cheaper than most of Canada. Having said that, very good value real estate can nevertheless be found throughout Canada in prime locations.
Non-residents are allowed to occupy a property for up to 6 months of the year. Exchange rates make buying real estate in Canada cheaper than in the USA.
Toronto
Toronto is situated on the northern shore of Lake Ontario and is the largest city in Canada and the fifth largest city in North America.
Vancouver
Vancouver is in British Columbia, on the west coast of Canada.
Quebec
Quebec is Canada's largest province (it is seven times the size of the UK). Garden design in Quebec is a mixture of English and French traditions. The Montreal Botanical Garden is one of the largest gardens in the world. Quebec's official language is French, though English is very widely spoken.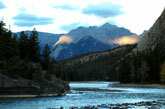 Canadian landscape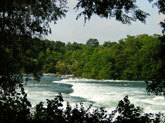 Canadian waterfall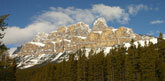 Castle Mountain, Banff National Park, Canada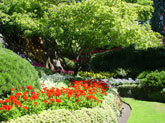 Butchart Garden, BC, Canada