Californian holiday homes
Return to property home
California is dubbed as "The Golden State", alluding back to the Californian Gold Rush. It is a diverse state where it is possible to ski and surf in the same day. From the glitz of Hollywood and the original Disney theme park - Disneyland, to the sophistication of Santa Barbara and the wineries of the Napa Valley, to the warm Pacific waters and the mainland US surf capital - Huntingdon Beach, California certainly has a lot to offer.
California has four main ecosystems - the coast, the Central Valley, the Sierra Nevada mountain range and the deserts. The fertile agricultural land now called the Central Valley used to be a sea bed. California has the fifth largest economy in the world and agriculture is by far California's largest industry. California is the most populous state in the US and includes San Francisco, Los Angeles, San Diego and San Jose and the state capital Sacramento. California lies on the San Andreas fault so is prone to frequent earthquakes. Most of California has a Mediterranean climate (coastal areas and the Central Valley). The Sierra Nevada has snowy winters.
Real estate in California is relatively expensive compared to elsewhere in the US.
For information on horticulture in California.
Lake Tahoe
Lake Tahoe is the largest alpine lake in North America. In winter, it is a very popular ski resort, in summer, it is a popular golfing destination. With Jeffery Pine Forests, grassy meadows, and a profusion of wildflowers, Lake Tahoe has a lot to offer hikers and nature lovers. The lake itself is famous for the clarity of its waters.
San Francisco Bay
San Francisco Bay is an affluent and ecologically diverse area. Five bridges cross the Bay, including the Golden Gate Bridge which connects San Francisco with Marin County. Real estate here is in high demand.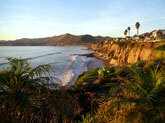 California Route 1
Queen Ann Architecture popular in California in the first half of the 20th century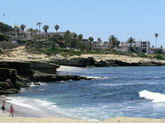 La Jolla Beach, California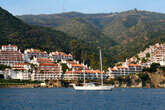 California luxury property