Moroccan holiday homes
Return to property home
Morocco is in Northern Africa but the country also has strong Arabic and European influences. The official language is Arabic. French is often used in business (Morocco gained its independence from France in 1956). The climate of the north of Morocco is Mediterranean. Inland the climate is more extreme.
A riad is a traditional Moroccan townhouse with a central open courtyard. Traditionally, the courtyard has a central courtyard and is planted with aromatic and medicinal plants. These charming and unique houses are popular with foreign buyers. A riad will guarantee privacy and a garden!
There are no restrictions on foreign buyers. The process of purchasing property is very similar to that in France. Freehold property must be registered with the land registry.
Marrakech
Situated in southern Morocco, Marrakech (or Marrakesh) is Morocco's second largest city after Casablanca. Summers are warm and humid and winters are snowy (the city is at the foot of the Atlas mountains and offers some excellent skiing prospects). The dynamic town square, Djem el Fna, is full of story tellers and performers. Marrakech has a number of famous gardens including the Jardin Majorelle and Jardin Menara. The exclusive La Palmeraie has some very attractive but expensive luxury properties. Gardenvisit.com have partnered with The Travel Source in Morocco to create a private 5 day tour of the gardens of Marrakech.
For Garden Hotel accommodataion in La Palmeraie district of Marrakech, see Dar Ayniwen Villa Hotel.
For Garden Hotel accommodation in Fes, see Sofitel Palais Jamai Fes.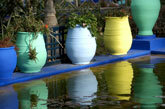 Jardin Majorelle, Marrakesh, Morocco
Palace courtyard, Marrakesh, Morocco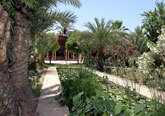 Dar Ayniwen Villa Hotel, La Palmeraie