Egyptian holiday property
Return to property home
Although in Northern Africa, Egypt also sits on the edge of Europe and Asia and is an Arabic country. Arabic is the official language. English is fairly widely understood as Egypt (the country was under British control for a while). The most desirable property in Egypt is along the Mediterranean and Red Sea coasts, along the Nile and in Cairo. Luxury property is plentiful.
The tradition of garden-making in Egypt dates back to ancient times. The climate is suprisingly well suited to making gardens as well as to sun bathing!
Real estate agency fees are 5% but half of this is paid by the seller.
Cairo
Cairo is a large and lively city. Cairo is famous for the magnificent ancient pyramids and the Great Sphinx.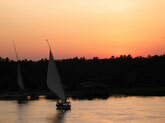 Sunset on the Nile, Egypt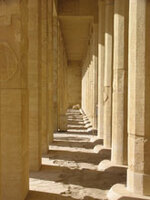 Hatshepsut Temple, Egypt