Cape Verde holiday homes
Return to property home
The Cape Verde Islands are an archipelago in the Atlantic Ocean 500 kms to the west of Senegal. They were uninhabited until they were colonized by the Portuguese in the 15th century. The Cape Verde Islands gained their independence in 1975 and have one of the most stable and democratic governments in Africa. Emigration during harsh droughts has left the islands with a higher expatriate than domestic population. The offical language of the Cape Verde Islands is Portuguese.
The Cape Verde Islands comprise ten predominantly mountainous islands, one of which is uninhabited. The climate is temperate and warm all year round, but rather dry. The islands are characterised by dramatic scenery, turquoise sea and endless white sand beaches.
There are no restricitions on foreigners buying property on the islands. Increasing interest and demand from international property buyers is being met through well considered property construction to preserve the character of the islands rather than high density, abrasive resorts. There are some lovely colonial style towns, for example Ribeira Grande.
Santiago
The largest, oldest and most densely populated island in the archipelago, Santiago's mountainous interior is sculpted by two mountain ranges. Green valleys and palm lined beaches make Santiago a very scenic destination. The character of the island is distinctly African. Praia, the capital of the Cape Verde Islands, is located on Santiago.
Sal
The island of Sal is the flattest of the Cape Verde Islands and the most barren. With its beautiful white sand beaches, it is ideal for the beach and water-sports lover. The town of Santa Maria is the main tourist town and located near the international airport.
Sao Vicente
Sao Vicente is the most cosmopolitan of the Cape Verde Islands. Sao Pedro beach is one of the top destinations worldwide for speed wind surfing. The capital of Sao Vicente is Mindelo.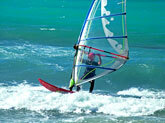 Windsurfer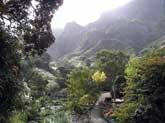 Cape Verde property, photograph courtesy Danielle Lenz