Advice on buying overseas homes with good gardens
Return to property home
Buying a home overseas is not a committment to be rushed into. Careful planning could make the difference between an expensive and burdensome mistake and the best move you ever make. Although there are similarities between the purchase processes of some countries, beware of assuming that the process of buying a property overseas will be the same as the process in your home country - this is unlikely to be the case.
Do you plan to stay in your overseas property for short, frequent stays or longer, less frequent stays? If you want a holiday home as short break to get away from it all, a convenient travelling time from your main residence is essential.
There are three different approaches to purchasing a property: buying an existing property, buying a newly built property from a developper or buying a plot of land and building a property to your exact specifications. The latter is attractive to buyers interested in having a good garden because of the challenge of finding the right property with the right garden in the right place.
You will normally pay for an overseas property in foreign currency so it is well worth taking an interest in fluctuating exchange rates. Many countries allow foreign property buyers to obtain a local mortgage. This may seem favourable because of the difference in interest rates but given the unpredictable nature of exchange rates this should be weighed against the security of taking out a mortgage in the currency you are earning in.
Many buyers of overseas property rent out their property for much of the year to cover all or most of the cost. How many weeks a year you can expect to rent out your property will depend on its location. Careful research is necessary but as a rule of thumb the more months of warm, sunny weather the area enjoys the longer the rental season is likely to be (skiing areas are an obvious exception). The cost of having an overseas property is greater than the mortgage - don't forget you will have to pay local taxes, insurance, utility bills and general maintenance. A garden will increase the cost of maintenance, particularly if you have a pool.
When choosing a lawyer to assist in the purchase, it is best to get a personal recommendation from someone you trust or at least ask for references. It is essential that your lawyer gives you impartial advice so be cautious about using the lawyer your estate agent recommends. Select a lawyer with local knowledge and fluency in the local language.
Falling in love overseas is too easy - so take care. We recommend:
learn the local language
visit the place on five separate occasions before purchasing the property. Spread these visits across the times of year you intend to use the property.
analyse the local property market - are you buying at the start, middle or top of a boom?
discover the cost of a local property manager (e.g. to manage holiday lettings for you) and a local gardener (to look after the plants when you are away)
discover what rental income can you expect when not using the property yourself? (an annual return of at least 5% is a sensible target)
get a lawyer who is fluent in your language and the local language. Give the firm careful instructions in writing.
check that you will be able to get your money out of the country if you decide to sell
do as full a budget as you can: property cost, legal fees, agents fees, possible changes in property prices, possible rental income, management fees
ask a real estate agent to help you meet people from your country who have bought property in the locality
get the property surveyed - the cost of the survey is insignificant in comparison to the expense and trouble that the survey may save you in the long run
Also, one should be clear about the reasons for buying a home overseas. The following are typical, with the possible disappointments in brackets
a holiday home [but going to the same place for every vacation may become dull]
a retirement home [but there can be problems making friends, having a pension paid and communicating with doctors]
because one partner was born in the overseas country
because someone's job is partly in the overseas country
to help the children learn a second language [but they may not bother]
as an investment [but you need knowledge, or luck, to profit from an investment]
for the pleasure of restoring an old building [but dealing with builders can be exhausting]
for the pleasure of tending a garden in a different climate, and growing a different range of plants [but plants need to be cared for when you are away]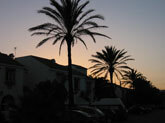 Sunset behind a Spanish home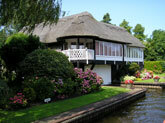 A home beside a canal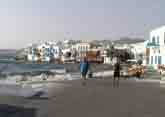 Greece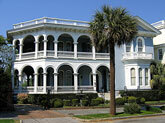 Luxury Real Estate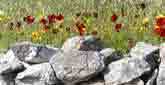 Flowers in Greece
Windmills in Greece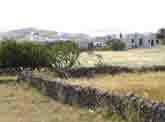 Greek countryside