'When the Thames flowers, London flowers'
'We therefore petition the Lords and Commons to debate the Thames' future as a great amenity for a great city'. The Port of London Authority should become the Thames Landscape Authority or Agency, with wider responsibilities for recreation, amenity, biodiversity and landscape development. The tidal reach of the River Thames is more than a port: it is a habitat for humans, fauna and flora, requiring expertise in urban design, environmental design and landscape architecture. The barge could launch a River Thames Flower Boat Festival – a watery cousin for the Pasadena Rose Parade. The flower barge is a symbol both of the river's degredation and of its future regeneration. It should be accompanied by an annual River Thames Flower Boat Procession.
Sponsorship opportunities: environmental charities, pressure groups, Londoners
After sponsorship
Starting with an Easter bulb festival, the Thames could have several flower boat pageants in a year. Flower boats could be sail as a procession or flowers grown in crates could be arranged on the boats which are often parked on the river.
More ideas for London's gardens, parks and landscapes.
Information about about sponsorship opportunities for london gardens and parks
Tags: garden history, garden design, landscape architecture, landscape design, public parks, urban design, London squares, public open space, shared space, urban renewal, urban regeneration, urban design ideas, proposals for London, Westminster and the City, flower festival market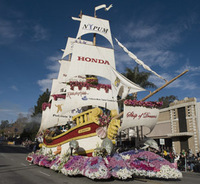 A flowering galleon at Pasadena's Tournament of Roses Parade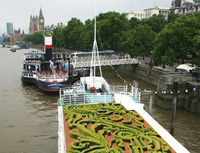 A Parterre Flower Boat on the River Thames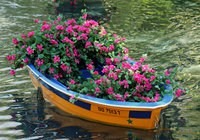 A flower boat to stirr Sir Walter Raleigh's heart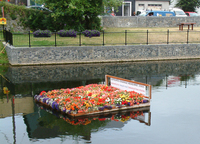 A flowering boat with bedding in Kilkenny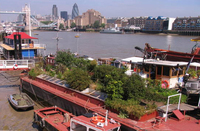 The Port of London Authority has spent 10 years trying to get rid of the beautiful garden houseboats at Downings Moorings near Tower Bridge