Peter Pan Garden Kensington Gardens
Chapter 1 of JM Barrie's Peter Pan is a Grand Tour of Kensington Gardens, where Peter lived. He wrote that fairies also live there 'but you seldom see them, partly because they live in the daytime behind the railings, where you are not allowed to go, and also partly because they are so cunning'. Though his statue is in the Gardens, Peter lived on an island in the Serpentine. 'Peter's heart was so glad that he felt he must sing all day long, just as the birds sing for joy, but, being partly human, he needed an instrument, so he made a pipe of reeds, and he used to sit by the shore of the island of an evening, practising the sough of the wind and the ripple of the water, and catching handfuls of the shine of the moon, and he put them all in his pipe and played them so beautifully that even the birds were deceived…' The mown lawn, Victorian shrubbery and crazy paving should be re-incarnated as a romantic woodland glade for Peter Pan and his fairy friends.
Sponsorship opportunities: The 2003 film of Peter Pan grossed over $121,000m for Universal Pictures, Columbia Pictures Corporation and others.
Before sponsorship
After sponsorship
More ideas for London's gardens, parks and landscapes.
Information about about sponsorship opportunities for london gardens and parks
Tags: garden history, garden design, landscape architecture, landscape design, public parks, urban design, London squares, public open space, shared space, urban renewal, urban regeneration, urban design ideas, proposals for London, Westminster and the City, flower festival market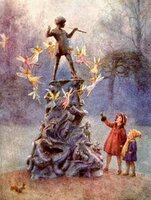 As Margaret Tarrant's painting of Sir George Frampton's 1912 Peter Pan statue shows, it was not surrounded by crazy paving