Greenwich Heritage Avenue
Greenwich Park has the oldest baroque avenues trees in England, with the sweet chestnuts over 350 years old. They were planted just after the restoration of our last King Charles c1660. What could be called the 'North Avenue', the 'Meridian Avenue', the 'Stuart Avenue' or the 'Democratic Avenue' is curiously close to the alignment of the Prime Meridian of the world, which runs through the nearby observatory (also established by Charles II). In character, the Greenwich avenues are more democratic than autocratic: they wander up and down hills with no end-to-end views. They may be the oldest avenue trees in England. The two cross avenues, with new trees and macadam roadways, are dull. So the best original example of a heritage seventeenth century Stuart avenue in England is the one which runs almost due north from the Tea Pavilion. Stupidly, its throat has been blocked with an ugly bin store. Deceitfully, the monstrosity is not shown on the Royal Parks' plan. Hopefully, the staff will do a controlled burn on 5th November and restore the most historic avenue in England. This done, the charge of criminal vandalism should be waived. Sponsorship opportunities: a Canary Wharf company, perhaps with a view of the avenue from its windows, could ask to buy naming rights for the avenue.
Before sponsorship
After sponsorship
More ideas for London's gardens, parks and landscapes.
Information about about sponsorship opportunities for london gardens and parks
Tags: garden history, garden design, landscape architecture, landscape design, public parks, urban design, London squares, public open space, shared space, urban renewal, urban regeneration, urban design ideas, proposals for London, Westminster and the City, flower festival market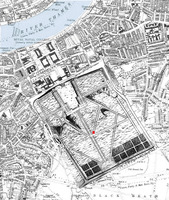 Greenwich Park, with the 1675-80 Pepys Plan superimposed on an old OS plan, and with a red block showing how the Royal Parks bin store blocks the throat of a fine avenue of c1660 Sweet Chestnuts Castanea sativa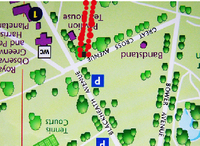 Map with the Baroque Stuart Heritage Avenue in red and the bin store in black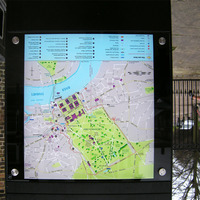 Greenwich World Heritage Site Map, cardinally orientated. It is displayed outside St Mary's Gate with south at the top of the map, the north-point upside down and the best Stuart heritage avenue omitted. These acts of bravura incompetence are within 100m of the National Maritime Museum and the home of navigation, the World's Prime Meridian. Cor blimey. (Click map for a closer view of the "North" Point).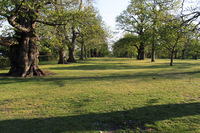 The Meridian Baroque avenue in Greenwich Park - viewed from the north side of the ghastly rubbish bin store