National Army Museum Poppy Garden
The National Army Museum could have an annual poppyfield – as a living memorial to the poppies of the First World War. This would be done by spreading soil and poppy seed on the ugly concrete blocks at the entrance to the Museum. When the poppies have bloomed, in late spring, the soil can be swept up and stored for another year. Visitors will crowd in, because they love John McCrae's 1915 poem In Flanders fields
Between the crosses, row on row,
That mark our place; and in the sky
The larks, still bravely singing, fly
Scarce heard amid the guns below.
We are the Dead. Short days ago
We lived, felt dawn, saw sunset glow,
Loved and were loved, and now we lie
In Flanders fields.
Take up our quarrel with the foe:
To you from failing hands we throw
The torch; be yours to hold it high.
If ye break faith with us who die
We shall not sleep, though poppies grow
In Flanders fields.
Before sponsorship
After sponsorship
More ideas for London's gardens, parks and landscapes.
Information about about sponsorship opportunities for london gardens and parks
Tags: garden history, garden design, landscape architecture, landscape design, public parks, urban design,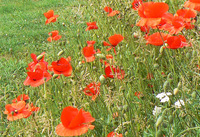 Flanders poppies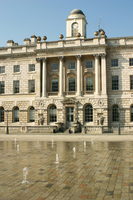 Fountain Court, Somerset House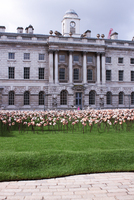 Out of Sync, an outdoor installation by Fernando Casasempere in Somerset House Courtyard 2012 'rereates the joy we feel at the site of blossoming flowers that signal the end of winter the beginning of spring. 10,000 ceramic blooks planted in a grass meadow set with the Edmond J Safra Fountain Court' (quotation from exhibition leaflet).