Links to suppliers of plant and horticultural suppliers
Chew Valley Trees Tree nursery specialising in native and hardy trees and shrubs - delivery across mainland UK.
Arena Flowers - Send beautiful, fresh, ethically grown flowers anywhere in the UK by leading online florists. We are the first florists in the UK to offer ethically sourced Fair Flowers Fair Plants (FFP) products. Our flowers are sourced directly from the growers, which mean that our flowers are up to four days fresh. We also offer a range of luxury chocolates, premium wines and a wide range of gifts. Order before 3PM for free same day delivery within the M25 and next day to the rest of the UK.
Citrus Product Natural Pesticide Orange Guard Organic Gardening Shop proudly offers a complete line of all-organic gardening products such as herbicides, fertilizers, insect and pest control, orange oil, and biostimulants. Our Solution Finder helps identify bugs and insects, weeds, diseases, and wildlife problems, with pictures descriptions and remedies.
Gardening UK. A directory for plant & garden catalogues.
Garden Seeds We supply a range of vegetable, herb & flower seeds including organic vegetable seeds. All seeds are very competitively priced and of the highest quality. Great service as well as a useful list of garden jobs for each month and garden news & events.
Green Dragon Bonsai Mail order suppliers of Japanese, Chinese and Korean Bonsai trees, pots, tools, and accessories. Free advice and articles for all levels. Green Dragon Bonsai are based in Prestatyn, North Wales
Olive Tree - Offers a great selection of evergreen trees, fruit trees, topiary trees, olive trees, Japanese maples, leylandii, and much more for your dream home.
Sheen Botanical Labels Engraved plant and tree labelling supplied to order. As well as its engraved labels, the company also makes matt-black coated aluminium label holders in a range of heights and can supply the Kew-developed tree label fixings. It also supplies engraved commemorative plaques which are available in full-size stemmed holders.
Sunrise Greenhouse, Nova Scotia – Home of the Supertunia®Bordeaux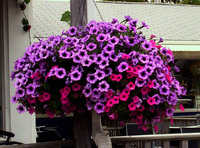 Supertunia Bordeaux, Sunrise Greenhouse