Wimbledon Common
York House was built in the mid-seventeenth century and a plan showing the present extent of the gardens was drawn in 1784. The riverside gardens were commissioned by Sir Ratan Tata, a Parsee from Mumbai who bought the house from the Duc d'Orleans in 1906. Tata, whose family continues to run one of the largest industrial companies in India, had the gardens re-designed and installed the Carrara marble statues. They came from Lea Park (aka Witley Park) near Godalming and are thought to have been made in Italy. After Tata's death York House was sold to the council and used for offices. The statues were allowed to rot away quietly, until their restoration in 1988. It was said that "Every one of the marble maidens (is) covered with graffiti, mostly obscene, and they have been daubed with paint in unmentionable places. The pond is full of cans and take-away boxes".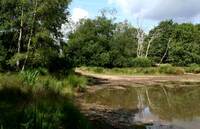 A pond in the former Bluegate Gravel Pit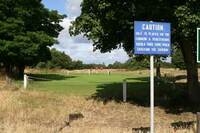 The notice reads: "Caution. Golf is played on the common & pedestrians should take care when crossing the fairway"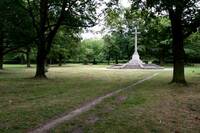 The War Memorial was designed by Madeline Agar with Brenda Colvin as her site assistant. It is on Richardson Evans Memorial Playing Fields - part of Wimbledon Common since 1922.