Westminster Cathedral Precinct
A new development of offices and shops has opened up the view to the Roman Catholic cathedral from Victoria Station. The cathedral was built 1895-1903 and has a well-proportioned piazza in front, paved with stone and brick to match the cathedral. This is a bold idea for the creation of space in the city centre and the glass of the offices contracts successfully with the cathedral and the paving. Architects: Elsom pack & Roberts. The space links through to the glazed arcade of Cardinal Place.
Victoria street, London SW1.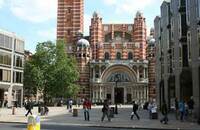 An urban space was created to open up views and improve access to Westminster Roman Catholic Cathedral