Victoria Embankment Gardens
The Victoria Embankment was one of the greatest engineering projects of the nineteenth century, designed by Joseph Bazalgette and completed in 1870. It gave London a trunk sewer, an underground railway, a new riverside road - and the Victoria Embankment Gardens. But it also allowed a major road to separate this part of London from its river. What looks like a garden building in the photograph (right) used to be a rivergate. It is difficult to see how the river and buildings can ever be re-connected but it would be worth building glass sound-barrier walls on both sides of the road - and then holding a design competition to find ways of crossing them. A high-level bridges could be projected from the Adelphi to bring pedestrians from The Strand to a floating deck above the shore. It would link Strand to strand (' Strand' comes from the Old English word for 'shore' or 'river bank').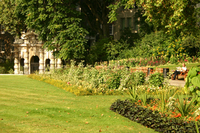 Victoria Embankment Gardens are severed from the Thames but could be protected from noise and fumes with a glazed barrier.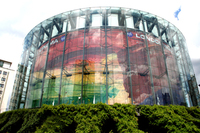 The Imax cinema shows how glass and vegetation can work together.