Trafalgar Square
This famous London Square was designed by Charles Barry in an Italianate Style. As in his garden designs, the plan was based on the creation of an Italian terrace. In the Landscape Style estates were 'composed, like a landscape painting with foreground, middleground and background'. The National Gallery became the great house. Trafalgar Square became the foreground. The transition flowed down Whitehall to an unseen middleground and background. The lions which overlook the fountains were designed by the famous landscape painter, Sir Edwin Landseer.
Norman Foster led a World Squares for All project which, in 2002-3, resulted in the north side of the Square being pedestrianised. This took the composition much closer to Barry's original conception and included a central flight of steps leading down from the National Gallery to the fountains. The steps in Barry's design for Shrubland Park have this role in his design. The steps in Trafalgar Square were designed so well, by Fosters, that they look as though Barry had done the work himself.
The only disappointing aspect of the scheme is the paved area between the top of the new steps and the entrance to the National Gallery. One can understand the desire to have it uncluttered but the paving pattern is too plain. Perhaps the traffic managers could learn, as Barry did, from Italian gardens. They should commission a succession of artists to design exotic plant containers. They could become one of London's summer exhibitions.
See also: National Gallery Sainsbury Wing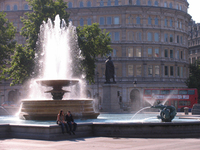 The trees and the fountains (designed by Edwin Lutyens in 1939) give something of an Italian garden character to Trafalgar Square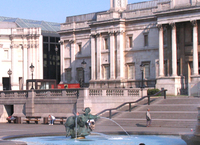 New steps to the National Gallery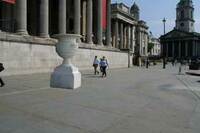 A giant vase (borrowed from Versailles) in front of the National Gallery