Tower Place Atrium - landscape architecture
Tower Place is a major office development, designed designed by Foster and Partners for Marsh McLennan (insurance brokers). The plaza is on the north side of the building, which is normally a bad location for a pedestrian sitting area, but glazing has turned a potential weakness into a strength. The plaza might have been too hot on the south of the building. Glazing allows some solar gain and protects the space from rain and wind. The urban plaza, designed by Townshend Landscape Architects, is semi-enclosed and planted with forest trees. The glazed space which links two buildings is open at ground level.
Address: Tower Place Atrium is West of the Tower of London and south of All Hallows church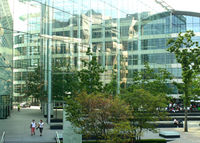 London would benefit from having more glazed public open space. See also: Hays Galleria, Bishop's Square, and Cardinal Place.