Tower Hill Plaza - landscape architecture
Tower Hill was designed to accommodate the crowds visiting one of England's most visited tourist sites: the Tower of London. The creation of a paved slope with expansive views of the Tower and the River Thames was a good idea. The abstract modern aesthetic has the virtue of treating the surroundings as the key visual and historic interest of the place.
The architect's pitiless commitment to glass, cold steel and granite is questionable. [See essay on Context and Design]. One can see from Stanton William's other work that they are minimalists. They love the immutable precision of hard materials - but Tower Hill would have had much more charm if, using the same geometry, a contextual choice of materials had been made: Cean limestone (as on the White Tower), English flint, as everywhere, and mellow London stock bricks. The planting is ornamental. When empty, the plaza has the terrifying greyness of a holocaust memorial, much less appealing than Lutyens Marine and Navy Memorial Garden which can be glimpsed in the photograph, in the north west corner of Tower Hill.
The plaza works well when hidden by the crowds on a busy summer afternoon. But in the blazing light of dawn the design looks better suited to a shopping centre in Luton than the most historic landscape in London. One day, we must all hope, water will be restored to the moat surrounding the tower - and the opportunity should then be taken to re-consider the design of Tower Hill Plaza. Mown grass and shrubs are quite pleasant in themseves - but this is one of the most important historic sites in Europe and it should have a better landscape design.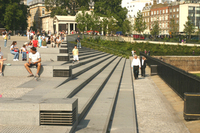 The cold stone of Tower Hill Plaza, with the elegant memorial arcade by Lutyens in the background.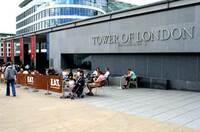 The lettering below Tower of London reads 'World Heritage Site' - and without this lettering one might take it for the branch office of a high street bank in retail park. The site needed a context-sensitive design and a reasoned case for similarity, identity or difference.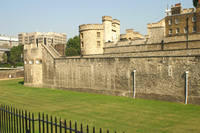 Tower moat - awaiting restoration of the water and ducks.