Thames Path Greenway
The Thames Path National Trail was established by the Countryside Commission (now the Countryside Agency). It has a length of 180 miles and extends through London. Strictly, the Agency's brief does not cover urban areas but since no other body has responsibility for this aspect of planning in London the 'intrusion' was beneficial for London.
The best-used sections of the Thames Path are often those on which cycling is permitted. The Agency comments that 'Within London some boroughs allow cycling on the Thames Path but it is a disjointed picture.' As the photographs show, restrictions on cycling are sometimed justified and sometimes unjustified. But there are many sections of Thames Path where unjustifiable restrictions are in place. Fortunately there is little enforcement and the restrictions are widely ignored.
See comment on London Greenways.

The Thames Path is well signposted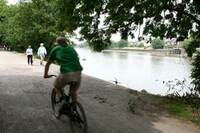 Cycling is allowed on the south bank Thames Path by Chiswick Bridge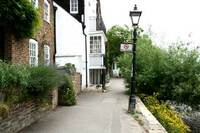 Understandably, cycling on the Thames Path is discouraged at Strand on the Green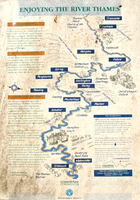 Map showing the 180 mile Thames Path from Cirencester to the Thames Barrier