Tavistock Square Memorial Garden
Tavistock Square in Bloomsbury was built in the 1820s, by Thomas Cubitt, as part of the Duke of Bedford's estate (Tavistock is one of the family's titles). The formerly exculsive communal gardens were opened for public use and have several memorials linked to on the theme of peace and pacifism. They include a cherry tree (planted in 1967) in memory of Hiroshima, a statue of Mahatma Gandhi (1968) and a memorial to conscientious objectors (1994). The elegant offices of the British Medical Association overlook the square.
On 7th July (7/7) 2005 a bomb was exploded on a bus, by Islamic extremists, and a memorial garden will be built. One hopes the suicide bombers were ignorant of Tavistock Square's association with the peace movement.
London visitors supporting the cause of world peace should picnic on the grass.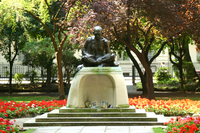 The Mahatma Gandhi memorial in Tavistock Square serves as a garden shrine for the peace movement. His desire for peaceful international relations is symbolised by the combination of a tree garden (Indian) with floral planting (which has both Islamic and British associations).