Soho Square Garden
Soho Square (originally known as King's Square) was laid out in 1681 on a piece of land known as Soho Fields and previously used for hunting ('So-Ho' is a hunting cry).
The statue of Charles II was originally in the centre of the garden above a fountain with a basin and figures representing the rivers Thames, Severn, Tyne and Humber. This was probably inspired by Bernini's statue in the Piazza Navona. The statue of Charles II was removed from the garden but later acquired, and returned, by W S Sullivan (of Gilbert and Sullivan). It is recorded that in the 1790s the garden was planted with almond, peach, cherry, lilac, rose, laburnum and honeysuckle.
The half-timbered black and white hut in the centre was built in 1895 and is used by the gardeners. Air-raid shelters were built beneath the grass during the London Blitz. The square is a very popular urban garden, putting many more recent urban landscape designs to shame. It would be nice to see the Four Rivers Fountain and one of the air-raid shelters restored.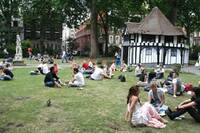 Soho Square Garden as an attractively sleazy air, which Charles II (statue by Ciber) seems to enjoy.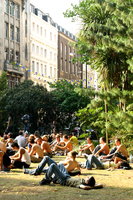 Sunbathers catching the last of the evening sun.