Richmond Park
Richmond Park is an ancient royal hunting park and one of London's most splendid open spaces. Man has done little more than make roads through the parkland, which are now used to spoil the park's tranquility. Deer roam free under the old oak trees and may often be seen grazing in the distance.
Richmond Park is a very popular outing for Londoners on account of its size (over 800 ha.) and accessibility by car. For landscape architects it is a fine example of simple landscape management providing efficient semi-natural parkland and recreation. At the NE corner of the Royal Park, the skyline is broken by Roehampton housing - well grouped tall point blocks in a classical landscape of mature trees. This famous public housing development was planned at a time of much lower car ownership.
Off Roehampton Lane.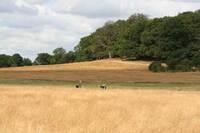 Richmond Park has great woods and great meadows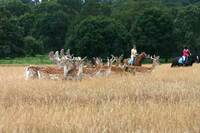 Deer, horse riders and people have learned to co-exist.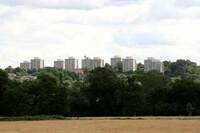 The Roehampton Estate, seen from Richmond Park