Heritage Lottery Fund (HLF) support for public parks
The restoration of London's public parks has received generous funding from the Heritage Lottery Fund (HLF). The HLF's work in this area is summarised in a downloadable .pdf document: Parklife.pdf. The second paragraph of Parklife (undated but downloaded in 2006) is as follows: "Little has really changed about the way we love parks. In their roles as social meeting places, sporting places and uplifting gardens, they have played an important part in developing our national character, and are the envy of visitors from other countries which lack this green and pleasant inheritance." Discussion of this statement would be simpler if the phrase 'the way we use our parks' was substituted for 'the way we love our parks' but in either case the remark that 'little has changed' is woefully ill-informed. Yet it forms the basis of the entire HLF public park funding programme. It is rather as if a general from the First Boer War had lived to remark, in 2006, that 'Little as really changed about the way an army fights'. With regard to parks, any sociologically respectable comparsion of the situation in 2006 with that in 1880 would have to note that:
many working people now have sedentary jobs. Their leisure time need is for exercise, not rest
garden owning and garden visiting have become far more popular since 1880, lessening the need for public parks to be public gardens
the predominant idea of 1880 was that public funding for public parks should be to make places of rest for working class people who spent their lives in manual toil. They had little time off at the week end and no annual vacation.
visiting the country is easier in 2006 than 1880, because so many people have private cars.
tastes and preferences in leisure pursuits have undergone significant change
nature reserves have become popular since 1880
there is no longer any need to restrict the consumption of alcohol in parks
see comments on London public parks and Burgess Park
It would, therefore, have been much better for the HLF to fund a programme of public park renewal, not public park restoration. One can, however, see how the mistake was made. National Lottery Funding was also available for sport and it was probably thought this would cover active recreation in parks.
In London the HLF has contributed funding towards restoring of the following parks, gardens and open spaces:
Emslie Horniman Pleasance
Battersea Park
Coram's Fields
Finsbury Park
Gladstone Park
Russell Square
St George's Gardens
South Norwood Lake and Gardens
Crystal Palace
Pymmes Park
New River Loop
Gunnersbury Park
Well Hall Pleasance
Clapton Square, Hackney
Hampstead Cemetery
Waterlow Park, Camden
Highgate Cemetery
St Mary's Churchyard, Islington
Island Gardens (Isle of Dogs)
Coronation Gardens (Leyton)
Cleaver Square, Vauxhall
Manor House Gardens, Lewisham
Nunhead Cemetery
All Saints Churchyard, Poplar
Southwark Park
St Pancras Gardens
Well Hall Pleasaunce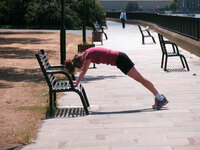 An office worker using a public park at lunchtime. She is not sitting on the park bench. She is sweating.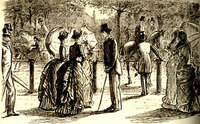 A London park in 1885: ladies, gentlemen and the aspirational working class have come to rest and take the air.