Oxford Street - landscape architecture
Until 1782, Oxford Street was known as Tyburn Road - after the River Tyburn which ran to the south of Oxford Street and now runs beneath it (see note on Blue Ribbon Policy in the London Plan 2004). Originally a Roman road it is straight and has served as a base for the eighteenth century grid planned estates to the north. The present Oxford Street was developed by the Earl of Oxford and has become one of the world's premier shopping streets. But the physical environment is unpleasant. The air is poisoned by diesel fumes from busses and taxis; the box marking on the road surface is ugly; there is too little space for pedestrians and street markets.There is no glazed outdoor space.
Improvements to the urban landscape of Oxford Street
Several 'landscaping schemes' were implemented along Oxford Street in the last quarter of the twentieth century: the sidewalks were widened, the paving materials were upgraded and trees were planted in tubs. But too much space is still allocated to vehicles. At a guess, it looks as though 50% of the streetspace is allocated to 5% of the users. Learning from Covent Garden, the whole space should be re-designed as an urban landscape.
the whole width of Oxford Street should be paved with high-quality materials so that, as in other traffic-calmed streets, the vehicles which are permitted to use the surface behave like intruders in a pedestrian realm.
the pavements should be further widened and the road narrowed to the minimum for two bus lanes
bus and taxi speeds should be restricted to a maximum of 10mph
a detailed survey of underground services to discover where permanent trees can be planted.
as an interim measure traffic could be restricted to two lanes, for public service vehicles, with periodic stopping bays.
improved litter collection would also improve Oxford Street's environment.
many bus and taxi routes could terminate at the east and west ends of Oxford Street. Traffic within the street could then by electric vehicles and cycle rickshaws - with the rickshaws could be sponsored to keep down user prices.
when wide-area traffic calming is extended to throughout the West End of London the scheme can be completed.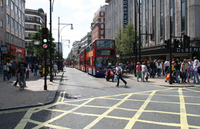 Pedistrians throng Oxford Street's sidewalks and diesel-powered vehicles usually jam the road in both directions.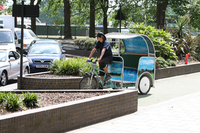 A cycle rickshaw on the cycle route to Hyde Park, sponsored by the O2 mobile phone company in 2006 (beside the Animals in War memorial)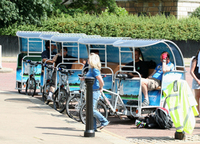 The future for street transport in Central London? Cycle rickshaws parked in Hyde Park