Gabo Fountain Garden at St Thomas's Hospital
There is an excellent example of an Abstract Modern garden on the South Bank of the River Thames, opposite the Houses of Parliament. It was built on the site of the former house of the Treasurer of the hospital (destroyed by bombing). The fountain which forms the centerpiece of the garden was designed by Naum Gabo (1890-1977). Gabo a Russian Constructivist sculptor who moved to England in the 1930's and influenced a generation of sculptors, including Barbara Hepworth and Ben Nicholson. Constructivism has had a particular influence on garden designers and landscape archtiects because of the way in which the design of objects 'constructs' a spatial pattern. The jets of water, and the space they define, form part of the scultpture. One can also regard the planting and the buildings as part of the composition (see note on the compositional elements of garden and landscape design).
Revolving Torsion is made of stainless steel. In Gabo's theory of 'on-colour' stainless steel 'has the same tone of water to a certain extent, but its shadows you can see, and you ought to see in the water'.
Information on fountains around the world from www.garden-fountains.com.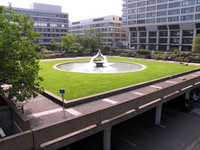 Roof garden (to a car park) at St Thomas's Hospital in London, designed by Yorke Rosenberg Mardall (YRM).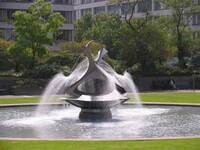 The name of the piece is Revolving Torsion (1972). A model of the fountain, Torsion (1925) is in the Tate Gallery. Gabo stated that 'I had from the beginning an idea that this subject has certain curves outside, that it should be connected with kinetics. This piece changes its curves when it turns around . . . the wings of the piece should have a movement of their own in the form of water jets.'