National Gallery Sainsbury Wing
The Sainsbury Wing of the UK National Gallery was designed by the postmodernist architect Robert Venturi. He was commissioned after Prince Charles described an earlier modernist design for the site (by Ahrends, Burton and Koralek) as "a monstrous carbuncle on the face of a much-loved and elegant friend". In terms of context theory, the ABK design was intended to be different from its surroundings and the Venturi design is context-sensitive in the sense of similar to its surroundings. It does not aim for an identity of style with the old building but it does make use of natural stone and 'quotations' from other buildings, including William Wilkins' 1832 design for the National Gallery.
There was also an argument over a small courtyard located between the old and new wings of the National Gallery (designed by Armstrong Bell). The local council advanced the almost unbelievable argument that the London Plane was not a suitable street tree for London and the client demurred at the cost of the York Stone paving. Both prejudices were overcome and the courtyard is now a small but excellent example of the type of civilizing landscape project the Greater London Plan 2004 should be encouraging to strengthen London's role as a World City. It even has a cycle park.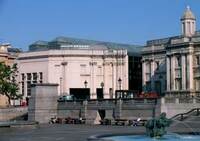 The stone columns on the Sainsbury Wing match the columns on the old gallery - but have a postmodern arrangement.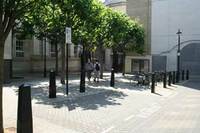 London Planes and York Stone in the courtyard behind the Sainsbury Wing of the National Gallery.