Riverside Walk Gardens, Millbank
The riverside walk has a series of curved and stepped terraces. They are like giant steps with granite 'risers' and grass 'treads'. The footpaths are in resin bound gravel footpaths. The planting is of London Plane, Lime and mixed perennials. The lighting comes from fiber optics in the handrails.
The elegant braided terraces remind one the Thames currents that once flowed across the site. The caption on a pillar reads "Near this site stood Millbank Prision, which was opened in 1816 and closed in 1890. This buttress stood at the head of the river steps from which, until 1867, prisioners sentenced to transportation embarked on their journey to Australia". But if it was OK for prisoners to walk down steps to the water, why shouldn't it be OK for today's public? (see comment on Hermitage Wharf). At street level, the Riverside Gardens are dominated by traffic noise. There would have been more peace at a lower level.
The landscape design was by Plincke Landscapes in 2004.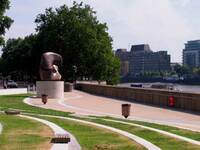 Henry Moore's Locking Piece was presented to the Tate Britain Gallery (which overlooks Riverside Gardens) and lent to Westminster City Council. Just to the right of the sculpture is a column with an inscription about the transportation of prisioners to Australia from this site.