Mile End Park landscape
The 1999 edition of the London Landscape Guide was optimistic "Work is in hand to form a 36 ha. Park beside the Grand Union Canal. It will nearly link Victoria Park to Limehouse Basin and the River Thames. About 75% of the land has been acquired but only 10% is in permanent layout. Another 50% is in temporary layout and is visually depressing. A grant of National Lottery money was made in 1996 for the park to be 'completed'. Tibbalds Monroe are the landscape consultants.". But the optimism was ill-placed. See: Comment on Mile End Park. There is similar problems with the park's southern sister: see Comment on Burgess Park.
Mile End Park is not a bad place or an ugly place. It just seems a misuse of public money. The Ecology Pavilion, for example, is an interesting building architecturally but gives the visitor much less of an 'ecological experience' than a visit to a community gardens run with support from the local community (eg Camley Street Natural Park or Meanwhile Gardens).
One aspect of Mile End Park changed for the better between 1970 and 2000: it was recognized that it would be better to manage about half the greenspace as woodland. The policy began with the GLC decision (when they were the park managers) to establish woodland by putting chestnut pale fencing round areas of land, planting it with forest transplants and covering the soil with bark mulch. This worked much better than the previous policy of planting standard trees in mown grass. Once the areas of GLC woodland were established a further decision was taken that much of the grass could be managed more like a hayfield than a lawn. Grass paths are then cut
The Green Bridge (below) looks OK from the road but for the user it resembles a road bridge. The idea of having a separate cycle track, with bumps, was crazy. Who would want to use it when they can use the canal towpath instead? Perhaps the best use for the cycle track would be to license it as a Sunday Market, like Petticoat Lane.
The Green Bridge looks OK from below, if with some resemblence to a main water pipe.
But why should anyone want to walk or ride on it (above) when they can be beside the canal (below)? The above photograph was taken in the middle of a warm summer day (noon on 13.7.2006)
This popular walk and cycling route runs parallel to the Green Bridge (above) and is 20 m away from it. The above photograph was taken at 12.03 on 13.7.2006.
Access from Grove Road/Burdett Road, E4.
HOMEPAGE - Landscape Architecture London List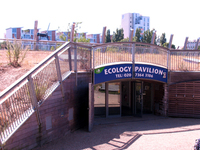 The Ecology Pavilion in Mile End Park is a green-roofed building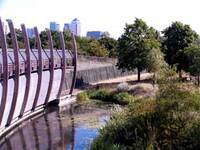 The Ecology Pavilion has a green roof and an area of wetland but appears to have little use.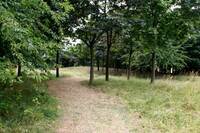 The policy of mowing grass paths through long grass and woodland is working well