Middle Temple Gardens
The Middle Temple has the best gardens of the four Inns of Court. One sometimes reads criticism of the legal profession, as in Charles Dickens' account of Jarndyce and Jarndyce in Bleak House. But one can only praise the profession for its excellent managemet of urban open space in general and gardens in particular. And even Dickens had pleasant memories of his days in Fountain Court:
There was a little plot between them, that Tom should always come out of the Temple by one way; and that was past the fountain. Coming through Fountain Court, he was just to glance down the steps leading into Garden Court, and to look once all round him; and if Ruth had come to meet him, there he would see her; not sauntering, you understand (on account of the clerks), but coming briskly up, with the best little laugh upon her face that ever played in opposition to the fountain, and beat it all to nothing. For, fifty to one, Tom had been looking for her in the wrong direction, and had quite given her up, while she had been tripping towards him from the first; jingling that little reticule of hers (with all the keys in it) to attract his wandering observation.
Whether there was life enough left in the slow vegetation of Fountain Court for the smoky shrubs to have any consciousness of the brightest and purest-hearted little woman in the world, is a question for gardeners, and those who are learned in the loves of plants. But, that it was a good thing for that same paved yard to have such a delicate little figure flitting through it; that it passed like a smile from the grimy old houses, and the worn flagstones, and left them duller, darker, sterner than before; there is no sort of doubt. The Temple fountain might have leaped up twenty feet to greet the spring of hopeful maidenhood, that in her person stole on, sparkling, through the dry and dusty channels of the Law; the chirping sparrows, bred in Temple chinks and crannies, might have held their peace to listen to imaginary skylarks, as so fresh a little creature passed; the dingy boughs, unused to droop, otherwise than in their puny growth... [Chapter 45 Life And Adventures Of Martin Chuzzlewit].
Now that the coal fires are extinguished, London is much less grimey and the plants flourish.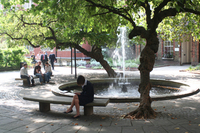 Fountain Court in the Middle Temple