Manchester Square Gardens
Manchester Square, dating from c1776, is a small and well-proportioned square. Unlike most of the London Squares, it is still dominated by the mansion after which it was named. Manchester House was later known as Hertford House is now the home of the Wallace Collection - a fine collection of paintings, furniture and decorative arts. As intended, it overlooks the square just as a country house overlooks its park. The internal courtyard of the Wallace Collection, once used as a sculpture garden, is now a glazed sculpture court and cafe with a very pleasant climate.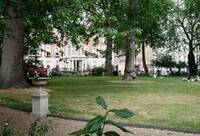 The former Manchester House still dominates the garden.
The internal courtyard has been glazed to form a garden cafe.