London Greenways and Landscape Walks
There have been many projects and inititiatives since the great Abercrombie Landscape and Open Space Plan of 1943-4. Their relative success as social space should be reviewed and considered by future greenway planners. Examples of London greenways:
From inspection, it appears that:
the routes which follow transport links (eg disused railways and canals) or landscape features (eg rivers and ridges) are popular
the artificial paths which link nothing to nothing are little used as routeways
If true, this would be unsurprising. It would also be a reason for planning pedestrian and cyclist origins and destinations along greenways. Visual policing by other users makes greenways safe. So does inter-connection.
Cycling is restricted on too many sections of London's Greenway Network, resulting in the network being underused. See comment on London Cycle Network.
The aim should be to create a continuous network of greenways in London. Their character should be varied (see essay on Greenway planning and design) but the entire network should be of 'routes which are good from an environmental point of view': safe, quiet, beautiful, sustainable. Signposting an ugly street does not make it a greenway.
The Countryside Agency website contains the following definition: 'A Greenway is a network of largely off-highway routes connecting people to facilities and open spaces in and around towns, cities and the countryside. They are for shared use by people of all abilities on foot, bike or horseback, for commuting, play or leisure. Greenways link to other networks for non-motorised users - such as the National Cycle Network, towpaths beside inland waterways, National Trails and other rights of way.' This is a good definition for the urban greenway network which London requires and which, as the above examples show, is under development.
See blog post London's Royal Parks Greenway should have the Lost Garden of Whitehall as a link to the South Bank's Thames Greenway
See additional photographs of London Greenways.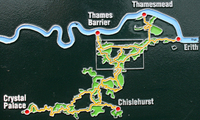 The South London Green Chain: It appears from the graphic (a notice board) as though the Green Chain links origins to destinations - but people do not want to walk from the Crystal Palace to Chiselhurst or from Chislehurst to the Thames Barrier - and its doubtful if anyone wants to visit Erith. The Greenway links are little used (though some of the parks are popular).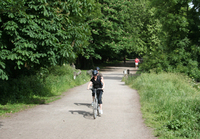 The Thames Path, near Hammersmith - lots of people want to visit the Thames waterfront between Putney, Hammersmith and Barnes, so the Greenway is well used.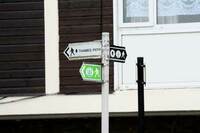 These signs, in West London, do not convert the roadway in which they are placed into a greenway. They raise a suspicion as to whether the organisations responsible for them are advertising themselves.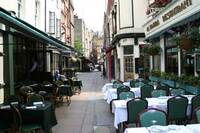 But Shepherd Market, near Piccadilly, is a greenway safe, quiet, beautiful, sustainable.