Jubilee Park at Canary Wharf
Jubilee Park is effectively a roof garden built above an underground railway station. It was designed by Wirtz International. The central feature is a raised serpentine water channel with rough stone walls. Other walls are planted with tall grass species and over 200 Metasequoia trees were planted in irrigated containers. Planting was completed in 2002 and by 2004 some of the trees appeared to be suffering from stress, possibly because of the harsh microclimate. On hot still sunny days the space is well used. But the design is unsatisfactory. The raised water channel looks municipal and is raised to a level which makes it divide the space in an un-steam-like manner. The Metasequoias are an odd choice and there may be a reason why they have never before been used in London on this scale: if they flourish, the space will become too shady; if they fail, they will have been a terrible waste of money. The lively grass mounding is good for sunbathers and a welcome contrast with the Gotham City aspect of Canary Wharf, but they are poorly composed. Overall, the scheme is too folksey for such an ultra-urban location. It should have been sublime + comfortable, like the best modern furniture. The lack of an overall landscape strategy for Canary Wharf and and the Isle of Dogs is an ongoing source of regret.
See also: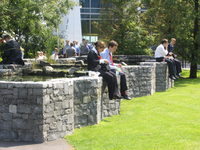 Jubilee Park at Canary Wharf - one could argue that having a stream raised 1 meter above ground level is post-modern, but it splits the space and causes office workers to put their smart clothes at risk.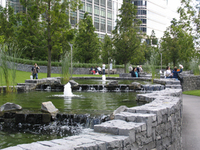 It may be postmodern, but it is also un-natural for a stream to be raised above a path.