Johnsons Drawdock by LDC
A launching dock for small boats. It was designed by Rick Rowbotham of Urban Red Ltd. Semi-circular steps, with inset mooring rings, surround a shingle beach. The buildings adjoining the dock frame a view of London. It is near the Island Gardens DLR station.
Why didn't the London Docklands Development Corporation make more good riverside spaces like this? See comment on London Riverside Walks. (See also: Dundee Wharf and Dunbar Wharf)
Access from Ferry Street.
HOMEPAGE - Landscape Architecture London List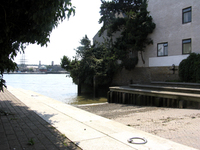 Johnson's Drawdock won a Civic Trust Award. Note how the tree grows through the wall.