Isle of Dogs landscape planning
The land within this great loop of the River Thames became the location of a major urban regeneration project in the 1980s. It began when Mrs Thatcher's conservative government transferred ownership of the land from the Port of London Authority to the London Docklands Development Corporation (LDDC) which offered tax incentives and began advertising land available for development. The key decision was to retain the dock basins as an urban amenity, instead of infilling them as had been done in the Surrey Docks and as the local authority planned for the Isle of Dogs. Many of the dock basins have been surrounded with dockside walks. They offer interesting views but most of them are too broad and have an excess of blank paving. The local branch of the Landscape Institute was sharply critical of the LDDC in its early years for not having established a landscape planning strategy for the development. The results of this omission are now plain for all to see, alas, sometimes too dark and sometimes too bright. T S Eliot wrote in The Four Quartets, East Coker:
O dark dark dark. They all go into the dark,
The vacant interstellar spaces, the vacant into the vacant,
The captains, merchant bankers, eminent men of letters,
The generous patrons of art, the statesmen and the rulers,
Distinguished civil servants, chairmen of many committees,
Industrial lords and petty contractors, all go into the dark,
And dark the Sun and Moon, and the Almanach de Gotha
And the Stock Exchange Gazette, the Directory of Directors,
And cold the sense and lost the motive of action.
And we all go with them, into the silent funeral,
Nobody's funeral, for there is no one to bury.
Or WH Auden In Memory of WB Yeats
In the nightmare of the dark
All the dogs of Europe bark,
And the living nations wait,
Each sequestered in its hate
See: comment on landscape architecture at Canary Wharf
Access from Westferry Road - or the Docklands Light Railway (DLR)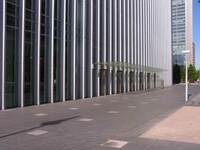 A typically shady urban space on Canary Wharf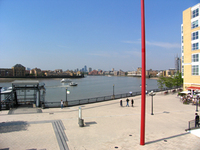 The meeting point of West Ferry Circus and the Thames on a hot summer day. There are few users because there is so little to use.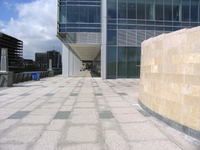 A south-facing, but vacant, 'plaza' by West India Dock. It has no planting, no seating and no cafes, no people. This is architecture - but not urban landscape design.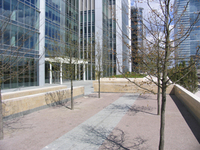 An east-facing plaza near West India Dock, designed to vacant. You can see why Canary Wharf is sometimes described as Gotham City.