Housing landscape architecture in London
London has been a laboratory for housing layout ideas with many experiments and a few successes. Housing layout is not a primary focus of the London Landscape Architecture Guide but there some examples which visitors to London might like to visit.
Terrace housing, also described as row housing, is the classic arrangement for London housing. As Steen Eiler Rasmussen argued in London the unique city, this was in marked contrast to continental Europe where the most common housing form was a street lined with apartment blocks. He believed the difference to be a result of England's land ownership pattern. Terrace housing had the profound advantage of giving each family a private garden. For visitors to London the best way to see 'working class' terrace housing is from the windows of a suburban railway - and the best way to see aristocratic examples of terrace housing is to visit London Squares . They are superb examples of landscape architecture. But the expansion of squares into parks, as at Regent's Park , provides an even better example of how housing can be planned to surround and contain public open space.
The replacement for terrace housisng in the first half of the twentieth century was garden city housing. This was conceived as a replacement for the poorest terrace housing and aimed to give residents narrower streets and larger gardens. The most famous example, and the pleasantest to visit, is Hamstead Garden Suburb. Like the best terrace housing, it is a fine example of residential landscape architecture. It was designed for the lower middle class but is now occupied by the upper middle class.
Housing reformers began to condemn garden city housing as 'suburban sprawl' and, to Rasmussen's horror, argued for its replacement with Corbusian high-rise appartment blocks in the third quarter of the twentieth century.. Many were built though they never became popular in London. One of the best examples is the Roehampton Estate, overlooking Richmond Park. A more central, and sadder, example can be seen at Cotton Gardens . But perhaps the most interesting example is The Barbican in the City. It was an attempt at urban high rise in a paved setting, rather than suburban high-rise in a green setting.
By the last quarter of the twentieth century Londoners had come to hate high-rise housing and the favoured substitution was was known as 'high-density low-rise'. Visitors to the Marquess Estate can see a fine example of this housing form alongside a very unpopular high-rise housing estate. Westminster has a good example of high-density low-rise at Lillington Gardens.
Compared to Amsterdam, London is poor in examples of house-boat landscapes where living space is integrated with a water landscape. But there are some examples, including a classic scheme at Little Venice and a more subversive example at Downings Road Moorings and Floating Gardens.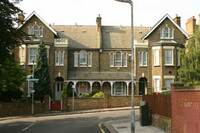 Rasmussen loved the garden landscape:architecture of London's terrace housing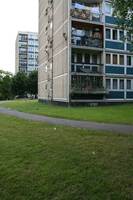 Like most Londoners, Rasmussen hated the landscape:architecture relationship of high-rise appartment blocks.