Hounslow Civic Centre garden
Ben Jacobsen's design was descsribed as follows in the 1984 London Landscape Guide: "A fine modern landscape design with Japanese and Scandinavian affinities. The landscape designer,Preben Jacobsen, has employed a fascinating range of plants and has used smooth stones and ground cover plants with great effect. His originality can also be seen in the geometry of the hard landscape."
It was a Mecca for student landscape architects at the time but in 2006 it was looking the worse for wear. The planting is overrun with weeds and the large polygonal slabs of exposed aggregate concrete are showing signs of heave, necessitating cement pointing to prevent pedestrians tripping. There is still much for students to learn from Hounslow Civic centre.
Lampton Road, Hounslow, Middlesex.
HOMEPAGE - Landscape Architecture London List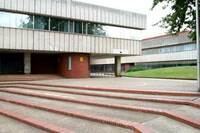 Note "the geometry of the hard landscape"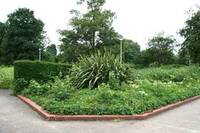 Jacobsen's planting is being overwhelmed by Convolvulus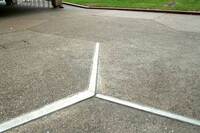 Fillets of cement have been used to protect walkers from being tripped up.